INTO's 2023 Annual Student Experience Survey reveals exceptional satisfaction rates for US programs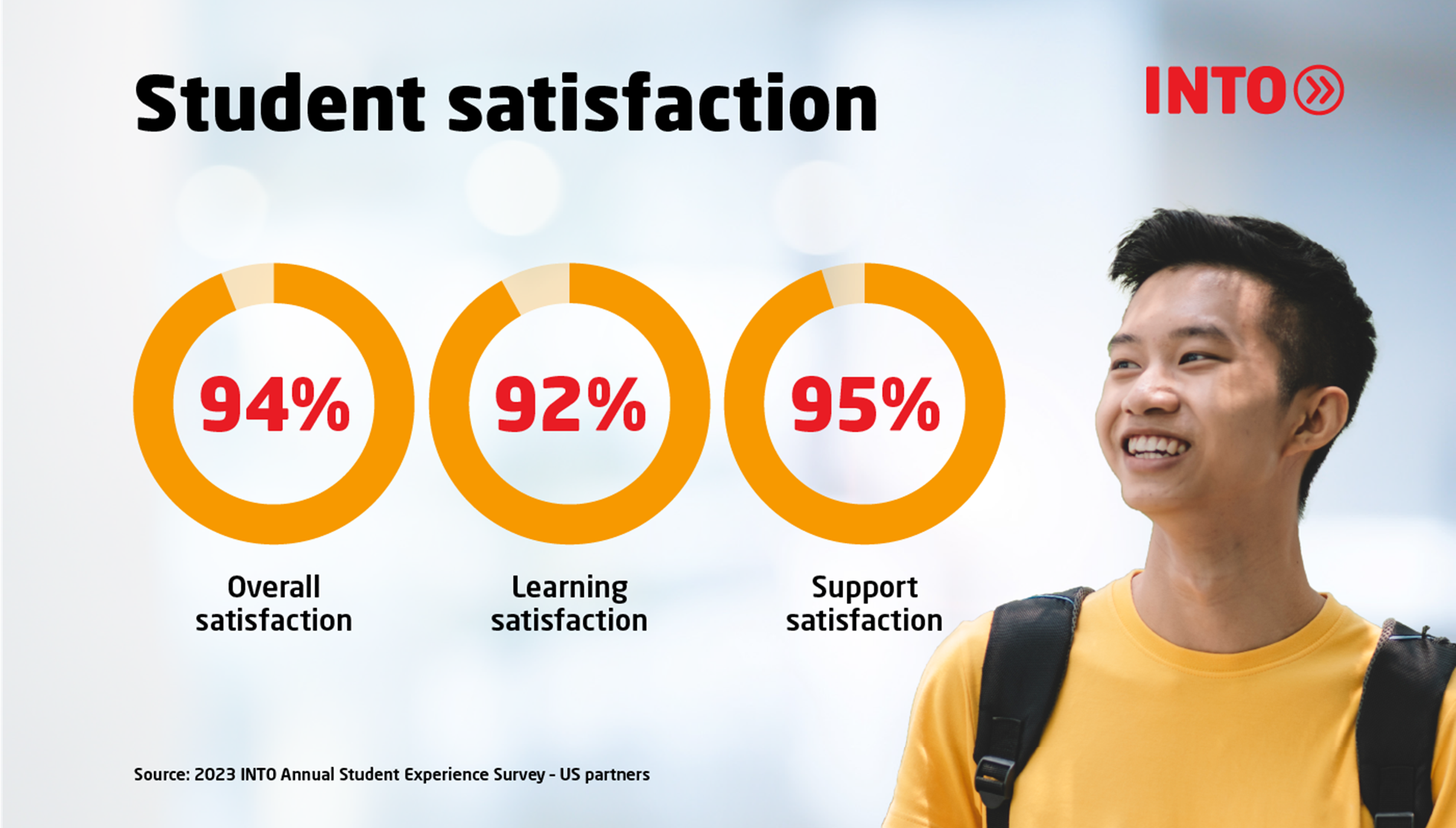 With an overall satisfaction score of 94%, international students praise the quality of academic programs and support services
(WASHINGTON D.C.):  INTO University Partnerships has achieved exceptionally high scores for student satisfaction across its US partnerships in the 2023 Annual Student Experience Survey.
More than 90% of international students enrolled in academic programs at INTO Centers in the US have said they are highly satisfied or satisfied with the overall experience, learning and support delivered.
The vast majority of students — 94% — were satisfied with their overall experience on INTO programs, and 92% were satisfied with their learning experience, a high-water mark for learning satisfaction. Meanwhile, 95% were satisfied with the support they received during the course of their programs.
A total of 486 international students at 8 INTO Centers in the US took part in the survey. Nationalities represented in the survey included students from China, India, Taiwan, Kuwait, Saudi Arabia South Korea, Thailand and Vietnam among many others. The survey captured the sentiment of students enrolled in graduate, undergraduate and English language programs.
John Sykes, INTO's CEO, said: "The student experience survey results demonstrate our unwavering dedication to student success. The demographics of international students on US campuses have changed significantly in recent years and continue to shift. We have evolved our programs and support services to meet the needs of a much diverse population." 
"We are grateful for the trust placed in us by international students from across the world, and we remain committed to providing top-notch learning and support throughout their academic journey."
Frank Merckx, Vice President of Enrollment Management and Campus Life at Drew University, said: "It is heartening to see such outstanding approval from international students. From acculturation to preparing students for their academic journey in the US, INTO's team provides vital learning support and services to international students, which are central to their success. This support furthers the experience for our students, who bring so much vitality and value to our campus."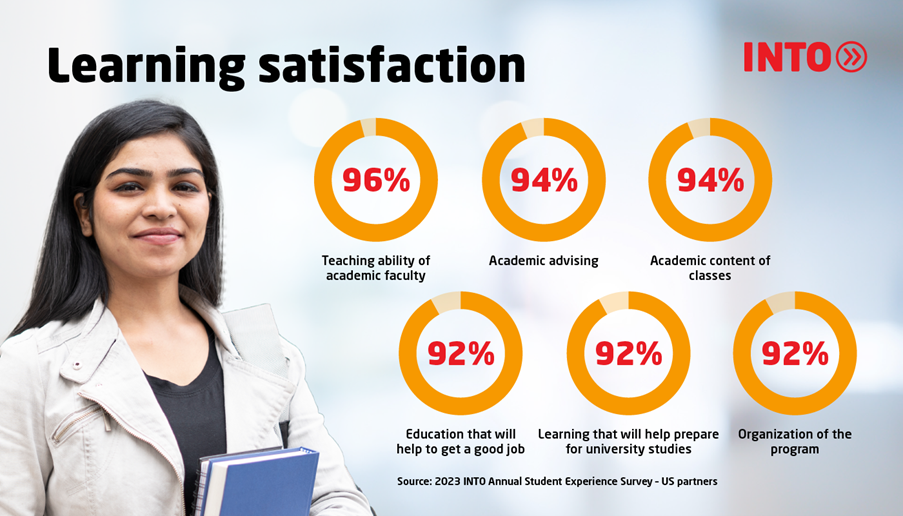 In the survey, international students highly rated their learning experience at INTO Centers with the teaching ability of academic faculty receiving 96% satisfaction vote followed by academic advising and academic content - each garnering a score of 94%. Categories such as career-focused education, learning that helps students prepare for university studies and organization of the program – all received a top score of 92%.
"I like how much care and effort they put into how well a student is doing in their academics. Especially for international students, this is most useful," said a student at INTO University of Alabama at Birmingham.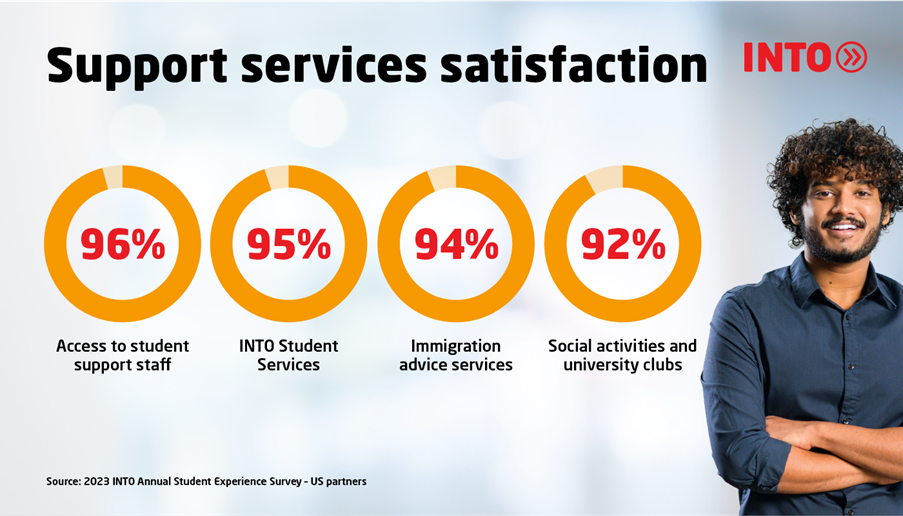 INTO Centers also won strong approval from international students for support services. 96% of students said they were very satisfied or satisfied with access to support staff, followed by 95% for INTO Student Services, 94% for immigration advice support and 92% for social activities and university clubs.
Sharon Sundue, INTO's Executive Vice President for North America said: "Student success is the cornerstone of INTO's approach to international education. In-person or online, our teachers and support staff are continually reimagining and enhancing the international student experience. The results demonstrate how much students value these services that make our Centers inspiring places where students can learn and thrive."
"The pathway program is like a scaffolding for international students to get familiar with the American education system. Through the program I took at INTO Mason, I have more confidence in starting my new journey to master's study," said an INTO Mason student at George Mason University.
For media enquiries, please contact: 
Davinder Kumar
VP, Corporate & Public Relations
davinder.kumar@intoglobal.com
Back to News and Press Releases