INTO launches first-of-its-kind digital community platform exclusively for international students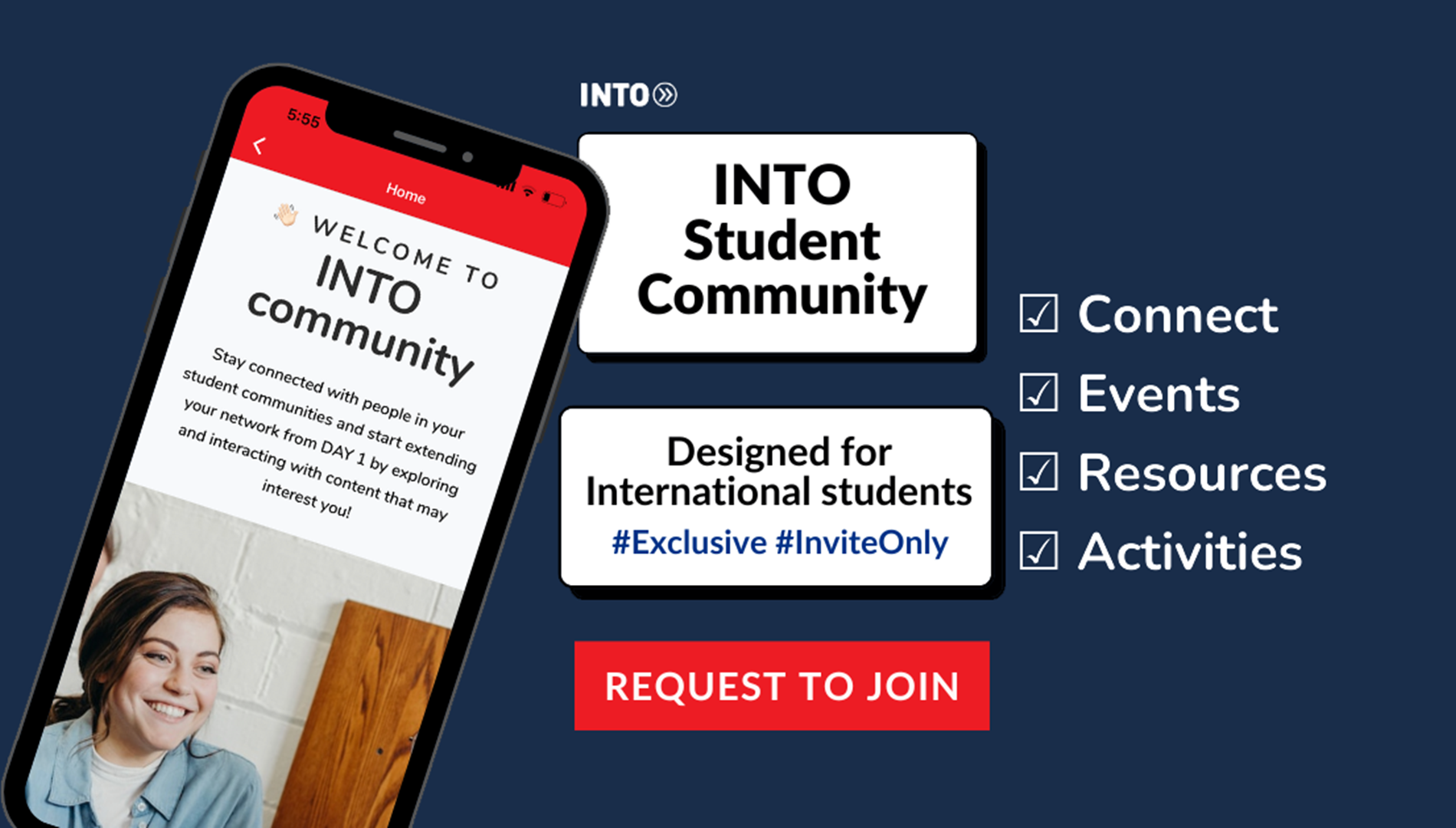 The Gen Z-optimized social platform is aimed to be a go-to app for international students while driving engagement and enrollment excellence for universities 
(LONDON): INTO University Partnerships has launched a first-of-its-kind digital community platform for international students aimed at revolutionizing the way students access information and support throughout their overseas academic journey. 
The INTO Community platform serves as a hub for international students where they can interact and engage with their cohort and faculty in real time regardless of their location. Designed for a seamless experience like top social platforms, the community hub will allow students access to access resources, events, job opportunities, mentors and more.
International students can use an array of services such as personalized advice and assistance on visa requirements, housing arrangements and access to expert advisors. They can join the INTO Community right at the initial stages of their international education journey and continue to be part of it right through to the alumni stage.
"INTO Community elevates student support and success to a whole new level through the power of technology. The innovation combines the dynamism and functionality of social media with INTO's unrivaled knowledge of students' needs and expectations. This can transform students' experience and boost their academic and career success," said John Sykes, CEO of INTO.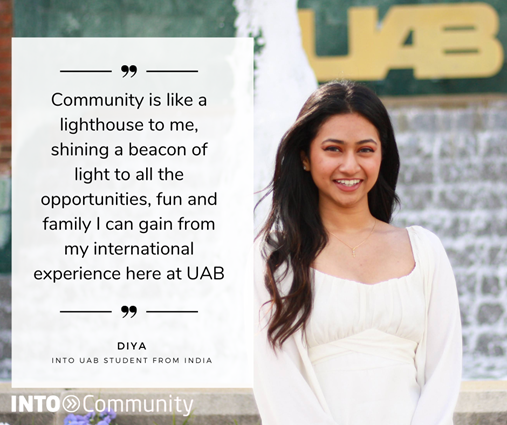 The INTO Community platform has been rolled out at INTO University of Alabama at Birmingham (UAB), INTO London, INTO Newcastle, Coventry University, and The University of Australia's UWA College. A total of 2000 students have joined the community with a week-on-week engagement growth of more than 15%. By the end of 2024, INTO aims to onboard half of all its center partners across the UK, the US, and Australia forming a community of 6,000+ active members.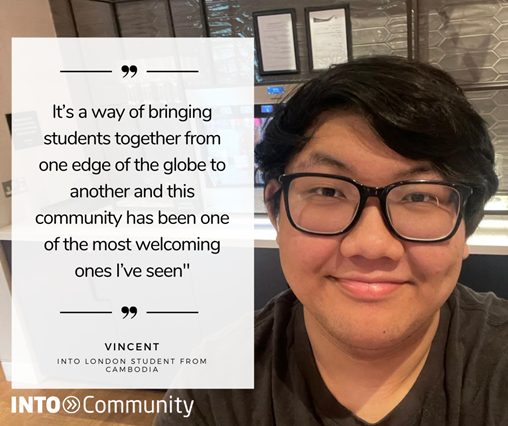 To ensure it is a safe and trusted space, the platform has been made a private and invite-only channel accessible to students with offers, current students, and alumni. Accessible to students worldwide, it provides a secure environment for students pursuing various programs. The INTO Community is also available as a mobile app for qualifying students and is compatible with iOS and Android devices.
"In addition to being a great resource for students, the platform is also a huge asset for partnering universities. By forging deeper emotional connections from the very beginning, the platform enables stronger engagement, resulting in enhanced conversion and enrollment rates. It also helps prevent students dropping out of their confirmed programmes," said Namrata Sarmah, INTO's Chief Product Officer.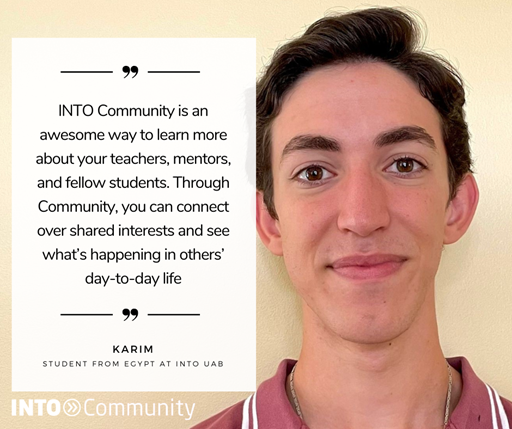 Based on initial data, UAB students who participated in the INTO Community before their arrival demonstrated a threefold increase in offer-to-confirmed conversion rates, in comparison to students who did not join the community.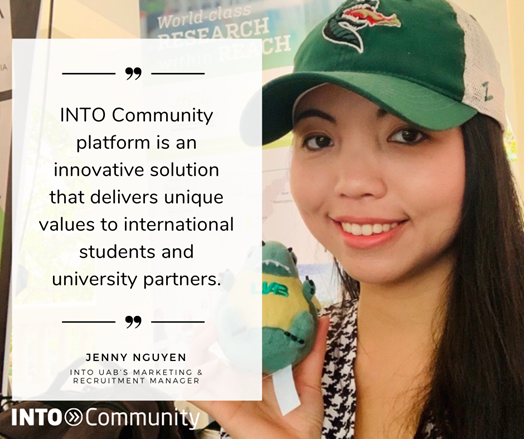 Jenny Nguyen, INTO UAB's Marketing & Recruitment Manager, said: "International students can make informed decisions by having access to various resources that are tailored to them. The University staff can better engage and provide timely support to their students."
"The INTO Community also serves as an expansive INTO Alumni network where teachers, staff, student ambassadors, current students and alumni can interact, build and nurture relationships in one single platform. This is a win-win solution."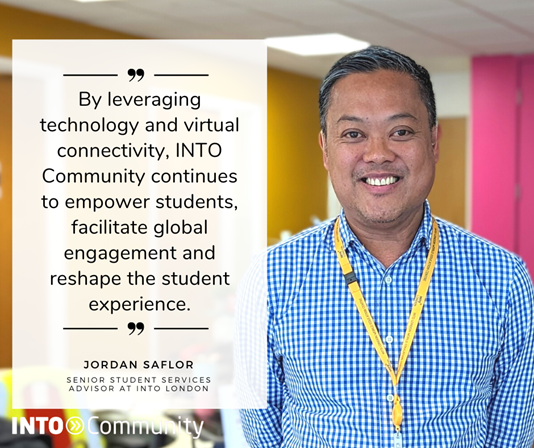 Jordan Saflor, Senior Student Services Advisor at INTO London, said: "INTO's community platform exemplifies its commitment to remain at the forefront of digital innovation in the education sector. I believe the Community has got off to a promising start and hopefully, we will see it grow even more in the coming months."
For media enquiries, please contact:
Davinder Kumar
VP, Corporate & Public Relations
davinder.kumar@intoglobal.com 
Back to News and Press Releases