More than half of Gen Z considering a different career path in the wake of COVID-19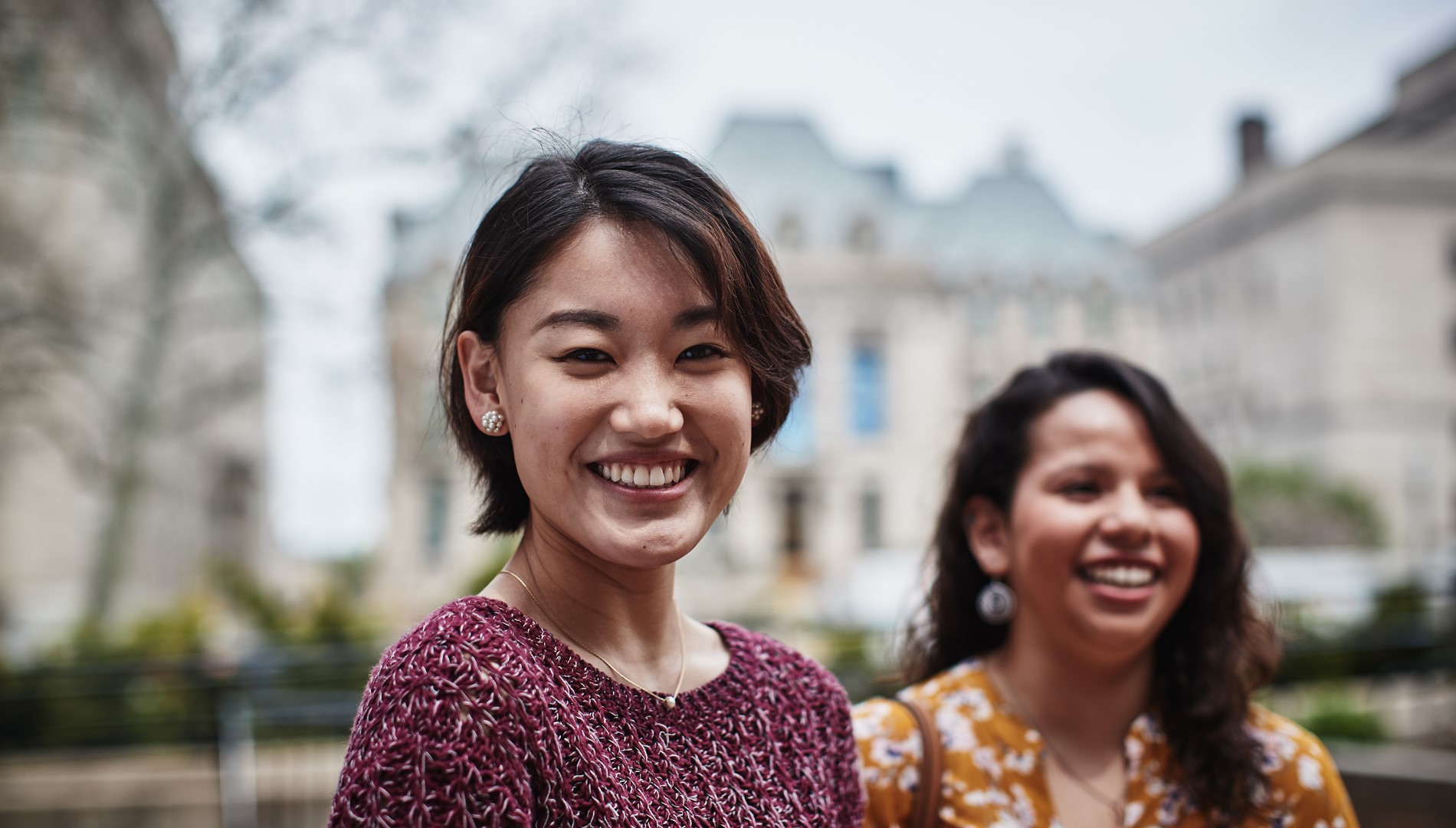 Global survey by INTO shows young people remain upbeat despite the pandemic as they explore new options, and international education tops their list of priorities.
(LONDON / NEW YORK): The COVID-19 pandemic has led more than half of Gen Z to consider a different career path, a global survey by INTO University Partnerships reveals.
The research conducted by the leading international education organisation shows that since the onset of the pandemic 55% of under 25s have actively considered new career options which never previously featured on their list. Also, half of Gen Z now want a career that offers better work-life balance.
Over 1,200 Gen Z students from 93 countries took part in the INTO survey, conducted in August 2021. This included China, India, Nigeria, Kenya, Japan, Australia and Brazil among others.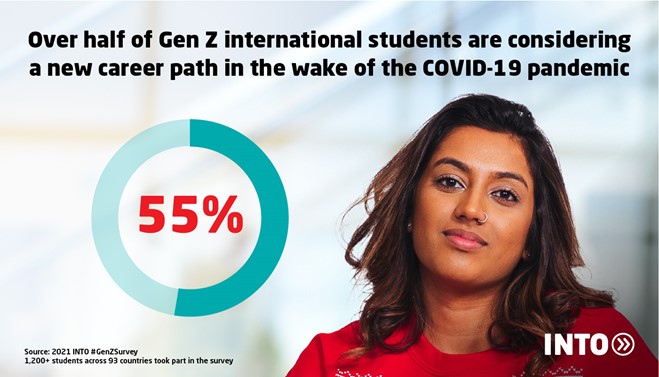 Gen Z make up 30% of the global population. The survey shows a strong trend among young people wanting to start their own business as a preferred career option. A total of 45% of students said they hope to one day become entrepreneurs and launch their own businesses. The majority also consider an international degree as the gateway to realising their career dreams in the new normal.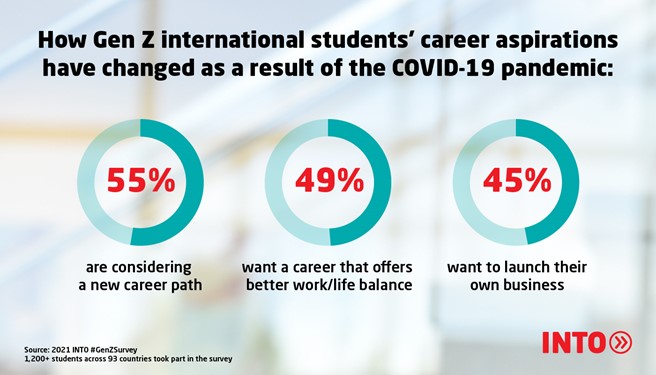 "The COVID-19 pandemic has radically altered the attitudes and career aspirations of Gen Z. This change will come to define the world of higher education and work. It is absolutely critical that governments, universities and the industry are primed for this shift among young people to support a whole generation that is eager to learn and work differently," said Olivia Streatfeild, CEO Of INTO University Partnerships.
The survey also shows that the catastrophic impact of COVID-19 on lives and economies has failed to dent the hopes and aspirations of Gen Z as they are more optimistic than ever about their future. An overwhelming 91% of Gen Z students have a positive outlook on their future after a year and a half disrupted by the pandemic – and they believe an international degree offers them the best chance to realise their dreams.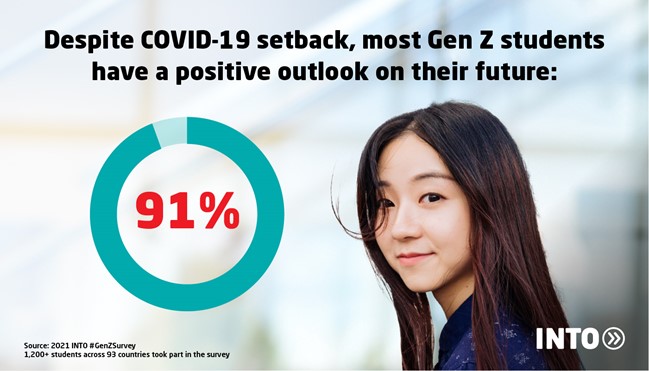 "Young people are faced with the toughest challenge in a generation to forging their future as the world strives to emerge from the shadows of the pandemic. It is therefore heartening to see that Gen Z are unfazed by the catastrophe and determined to achieve their dreams. Excellent international education opportunities and innovative programmes that boost students' career prospects will be pivotal in this recovery," said Ms Streatfeild.
The survey shows studying abroad to be inextricably linked to career goals in the minds of Gen Z students. Acquiring knowledge and skills needed to succeed in life came out as the top reason to pursue an international degree, with 90% of students surveyed agreeing that this motivated them to study abroad. Many students – 84% – also agree that training for a specific career is an important reason to go overseas for higher education.
"The current generation of students are more outcome-oriented than their predecessors. They demand concrete returns on their investment in an international degree. It is on those of us in the international education sector to facilitate their success and work to ensure they get what they deserve from their studies abroad," said Ms Streatfeild.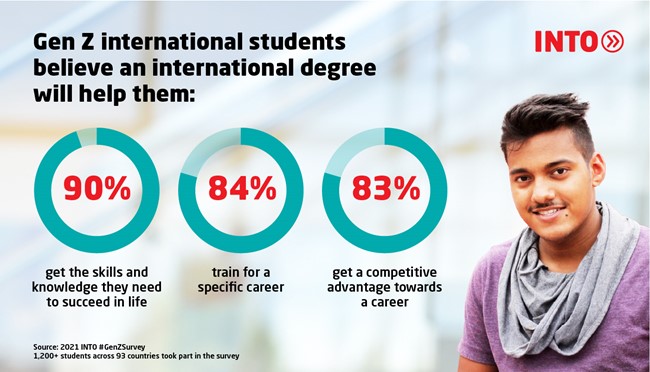 Highlights from the survey: 
55% of Gen Z students worldwide report that their career aspirations have changed in light of the pandemic; 29% indicate their aspirations have changed a little, and 26% indicate they have changed a lot.
91% of Gen Z students have a positive outlook on the future despite the COVID-19 setback; 43% report they feel optimistic and excited about their future, and 48% indicate they feel hopeful but sometimes anxious.
Indian Gen Z students are the most optimistic in the wake of COVID-19 – 94% indicate they have a positive outlook on their future.
88% of Gen Z students have the goal of making it to the top of their profession one day.
90% of Gen Z students believe an international degree will help them get the skills and knowledge they need to succeed in life.
84% of Gen Z students seek an international degree to train for a specific career.
83% of Gen Z students agree that overseas study gives people a competitive advantage towards a career.
76% of Gen Z students want to work overseas one day.
The full report of INTO University Partnerships' Gen Z survey series can be accessed here. 
For media enquiries, please contact: 
Davinder Kumar (London, United Kingdom)
Vice President, Corporate & Public Relations
INTO University Partnerships
Email: davinder.kumar@intoglobal.com
Mobile: +44 (0) 7393802367
JP Deering (Washington, DC, United States)
Senior Corporate Communications Advisor
INTO University Partnerships
Email: john.deering@intoglobal.com
Mobile: +1 (859) 351 9611
About INTO University Partnerships: 
INTO University Partnerships is an independent organisation committed to expanding higher education and career opportunities for students across the globe.
We believe in the power of education to transform lives. We believe that movement of students leads to movement of ideas, which in turn creates better and more successful societies.  
We connect students seeking quality international education with leading universities worldwide aspiring to widen their global reach and impact. Achieving the best learning experience and career prospects for students is central to our mission.  
Since our inception in 2005, INTO has pioneered innovation in international education and created groundbreaking partnerships with 30 universities in the US and UK. We have so far helped more than 130,000 students from 190 countries realise their dream of achieving a degree from a world-class university. We also equip students to get a head start in building a career. We do this by offering exceptional academic and employability skills programmes. 
We are active in over 120 countries and provide unrivalled personalised service to international students with more than 1,500 experienced staff worldwide and a global network of 2,000 recruitment partners. 
Back to News and Press Releases