Newton A level students earned 82% A* – A grades, compared to the national average of 36% A* – A grades
Most common results achieved by Newton A level students was 4 A*
Newton offers the only A level course taught on a UK university campus
Studies are supplemented with additional support such as work experience
The program also sets students up for university and their careers
Teaching quality played a big part in students achieving these stellar A level results
The Newton A level Program at INTO University of East Anglia (INTO UEA) has once again seen an extraordinary year of exam results, with this year's cohort of international students accomplishing a phenomenal 52% A* grades.
International students' A level results soar above national average
In the first time since the onset of the COVID-19 pandemic that A level results have been based on end-of-year exams, this year's Newton class earned 82% A* – A grades and 99% A* – C grades. Their results soar above the national averages of 36% A* – A and 82% A* – C grades. The most common set of results achieved by Newton A level students was 4 A*.
The only A level course taught on a UK university campus
The Newton Program is the only A level course taught on a UK university campus, offering international students access to UEA's world-class teaching and research facilities while providing valuable academic, cultural, and professional opportunities.
Students follow the Cambridge Assessment International Education (CAIE) curriculum in mathematics, further mathematics, biology, chemistry, physics, psychology and economics, organized into three pathways according to students' degree aspirations.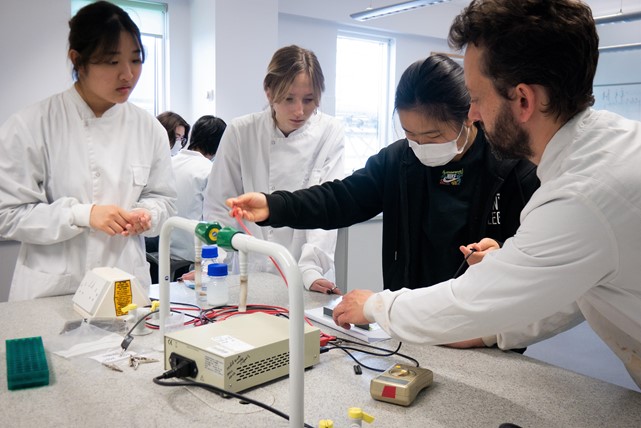 Studies are supplemented with additional support
Alongside a comprehensive academic program, Newton students are offered a range of enhancement activities which ensures they are ready for their university degree and stand out in their application. Depending on their chosen pathway and destination institution, this includes specialist medical school preparation content, such as weekly medical ethics classes and instruction in clinical skills, practice interviews and university admissions test preparation, lectures and masterclasses from University of East Anglia academics, Oxford and Cambridge preparation and field trips to locations such as Bletchley Park and the Wellcome Sanger Institute.
"I would like to say a huge congratulations to all of the Newton A level students for their outstanding A level results," said Samantha Payne, INTO Newton A level Program Manager. "Their determination to succeed despite the challenges of the past two years has enabled them to achieve their goals. We are immensely proud of each and every one of them and wish them every success as they move on to their university studies."
The program helps set students up for university and their careers
For the students in the program, Newton provides a chance not only to excel academically, but to better understand and develop their interests and talents as they apply for universities and chart a course to their careers. Dahye, a Newton student from South Korea, credits the Newton Program and her time on UEA's campus with giving her a glimpse into the medical study to which she aspires.
"I learned and experienced a wide range of things through studying in the Newton A level Program," Dahye said. "I personally joined the university medical society. This actually helped me to gain insight into life as a medical student. Also, I was able to access various academic resources and facilities that helped me to gain knowledge in medicine."
Having successfully completed the Newton program, Dahye received 4 A* results and will progress to her preferred medical program at the University of Southampton.
"I feel glad that my hard work has paid off and happy to meet the requirements for my firm choice university," she shared. "I will not forget my initial determination and mindset during medical school, and put in great effort to become a doctor who can prioritize patients using my knowledge and experience at Newton."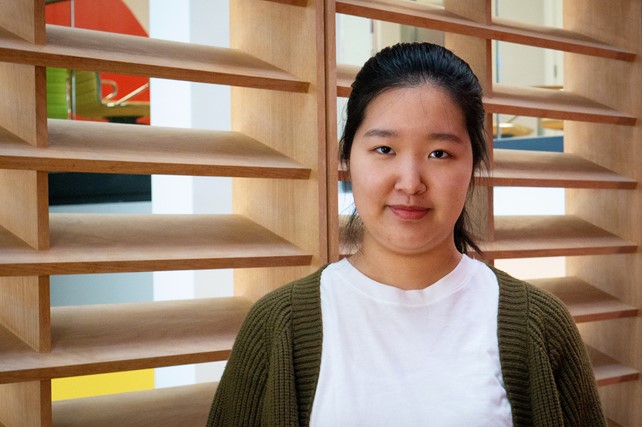 Newton teaching quality helps students achieve amazing A level results
Felicia from Hong Kong is another student who gained 4 A* results. In her view, the program's teachers made all the difference at this pivotal period in her life — both in and out of the classroom.
"The teachers on the Newton Program always helped us, for example when we were choosing our universities and we were writing our personal statements, so I felt fully supported the whole way," Felicia said.
Newton teachers encouraged Felicia to participate in extracurricular events, including the Youth STEMM Award Communications Competition, which she won alongside her friend, and achieving a second-place finish in a national psychology competition. Combined with her Gold Duke of Edinburgh's Award, these experiences helped Felicia differentiate herself when applying to university.
"With all these supplementing our growth as a person, instead of just academic learning, it helped us to become a more rounded person, and more valued by the universities we wanted to get into," she emphasized.
In the end, the Newton Program inspired Felicia to explore a career as a clinical psychologist, and her results have ensured her a place in the psychology program at the University of Bath.
"I'm very satisfied with my A level results as they have reflected my hard work. I'm also very excited about my next phase of education in University of Bath for psychology," she said.
With another year of excellent A level results in the books, the Newton Program awaits its next cohort, which will arrive in Norwich in September.
Learn more about the Newton Program