When the COVID-19 crisis pushed US universities to close campuses and move courses online six months ago, one could scarcely imagine that the fall 2020 semester would find new students starting classes from behind their computer screens.
Even so, the student experience teams at INTO's US centers have quickly adapted to support students through the unimaginable since the start of the pandemic. Earlier this month, they overhauled orientation to virtually welcome a new cohort of international students to their respective universities.
Reaching students—wherever they are
Most international students who commenced their coursework at INTO's American partner universities this fall did so from their home countries, and those who made it to campus followed 14-day self-quarantine guidelines.  US centers therefore faced the challenges of addressing questions, navigating linguistic and cultural differences, and helping members of the 2020 cohort root themselves all while providing orientation fully online.
Tasks typically reserved for students' first week on campus—including English language assessments—became important touchpoints prior to orientation, and close correspondence substituted in-person guidance.
"We spent more time on one-on-one student support," Andrea Zhou, interim assistant director, student experience, at INTO Saint Louis University, said of this year's orientation.  "In addition, we developed new processes to make sure the majority of students were tested [for English language skills] in advance."
In addition to English comprehension levels, the shape of orientation was determined by the need to reach students across a multitude of time zones.  Rather than hindering the process, however, broadcasting to students around the globe encouraged participation.
Michelle Coles, student services coordinator at INTO Drew University, observed, "Attendance at the start of orientation was much better than at our last in-person orientation because students were not battling jetlag."
Although technology's all-encompassing role in this year's orientation posed plenty of challenges, it also afforded opportunities to meet students where they were and center the process on their individual needs.
At INTO The University of Alabama at Birmingham (INTO UAB), live orientation sessions on Zoom were accompanied by courses and presentations in Canvas, the University's learning management system (LMS).  Bifurcating orientation into dynamic and static streams allowed the INTO UAB team to strike a balance, presenting enough information for students without overwhelming them.
"We were able to spend half of each day live on Zoom, then we instructed students to complete self-guided orientation courses online," Hope Shen, student services coordinator at INTO UAB, explained.  "This structure was especially beneficial to students who were exhausted from their travels, and to students with lower English language levels who could go through at their own pace."
To further supplement high-touch events, informational sessions were layered with icebreakers in small groups and individual meetings with student experience team members.  INTO UAB students spent time in Zoom breakout rooms with their International Orientation Leaders, who, according to Shen, also "created WhatsApp groups, then followed up on an individual basis each day with the students."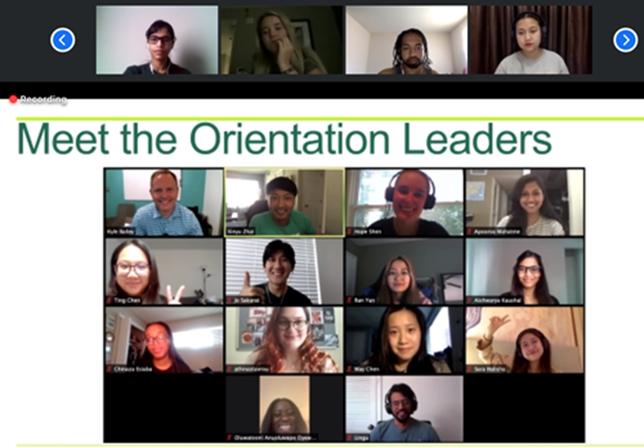 In place of an in-person walk through campus, new students at INTO Suffolk University enjoyed a virtual University and Boston tour:
"We hosted a virtual live stream of the tour, where students posted questions in real time," Sophie Wilson, student experience director at INTO Suffolk, explained.  "One new student shared that this was their favorite event."
"There is a level of informality that being behind a screen provides, and I think it allows students to see a personal side of their student experience teams," Jessica Biddle, student experience director at INTO George Mason University, said.  "I had my four-month-old on a Zoom session while I checked in a couple of students who were also parents, and we were able to connect personally on that level."
Supporting students in extraordinary times
At a time when students and parents are concerned about the implications of the pandemic for safe study in the US, student experience teams emphasized the many opportunities for care available to students.
"We worked closely with campus health services… on a presentation that highlighted telehealth and tele-counseling services for international students during COVID-19," Jen Hickman, student experience coordinator at INTO Colorado State University, said.
After they were tested for COVID-19, INTO Hofstra University students who came to campus were provided with PPE, supplies to sanitize their dorm rooms, and daily meal deliveries to ensure minimal risk of exposure to the virus.
Fall 2020 orientation also took place in the context of the global Black Lives Matter movement.  At INTO Hofstra, this posed an opportunity to partner with the University's Office of Diversity and Inclusion.
"In light of the Black Lives Matter protests, we added a great new session called 'Inclusive Hofstra' to discuss Hofstra's inclusive policies and introduce students to how race, gender, sexual orientation, etc. play into people's lives," Xia Ahmed, assistant director of student experience at INTO Hofstra, said.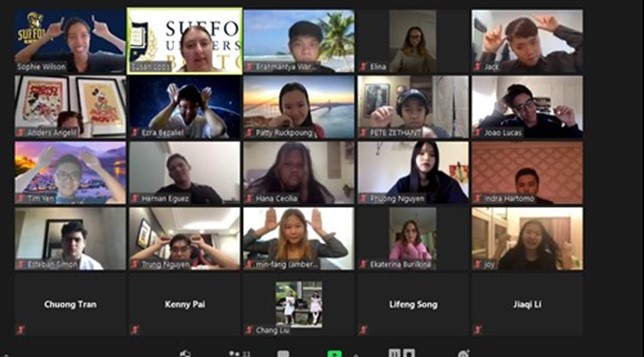 Unparalleled support—every step of the way
As a global pandemic posed uncertainties for international students eager to begin their studies abroad, INTO's US student experience teams made digital spaces for students to connect, learn, and discover their new campuses while recovering a sliver of normality.  As Wilson from INTO Suffolk put it, staff "learned, failed, and learned again the best ways to build a virtual orientation."  And as a new semester begins, their work is far from over.
If their track record is any indication of how they will help international students navigate these unprecedented times, students can rest assured of their unparalleled support—every step of the way.