INTO's 2023 Annual Student Experience Survey reveals outstanding satisfaction scores for UWA College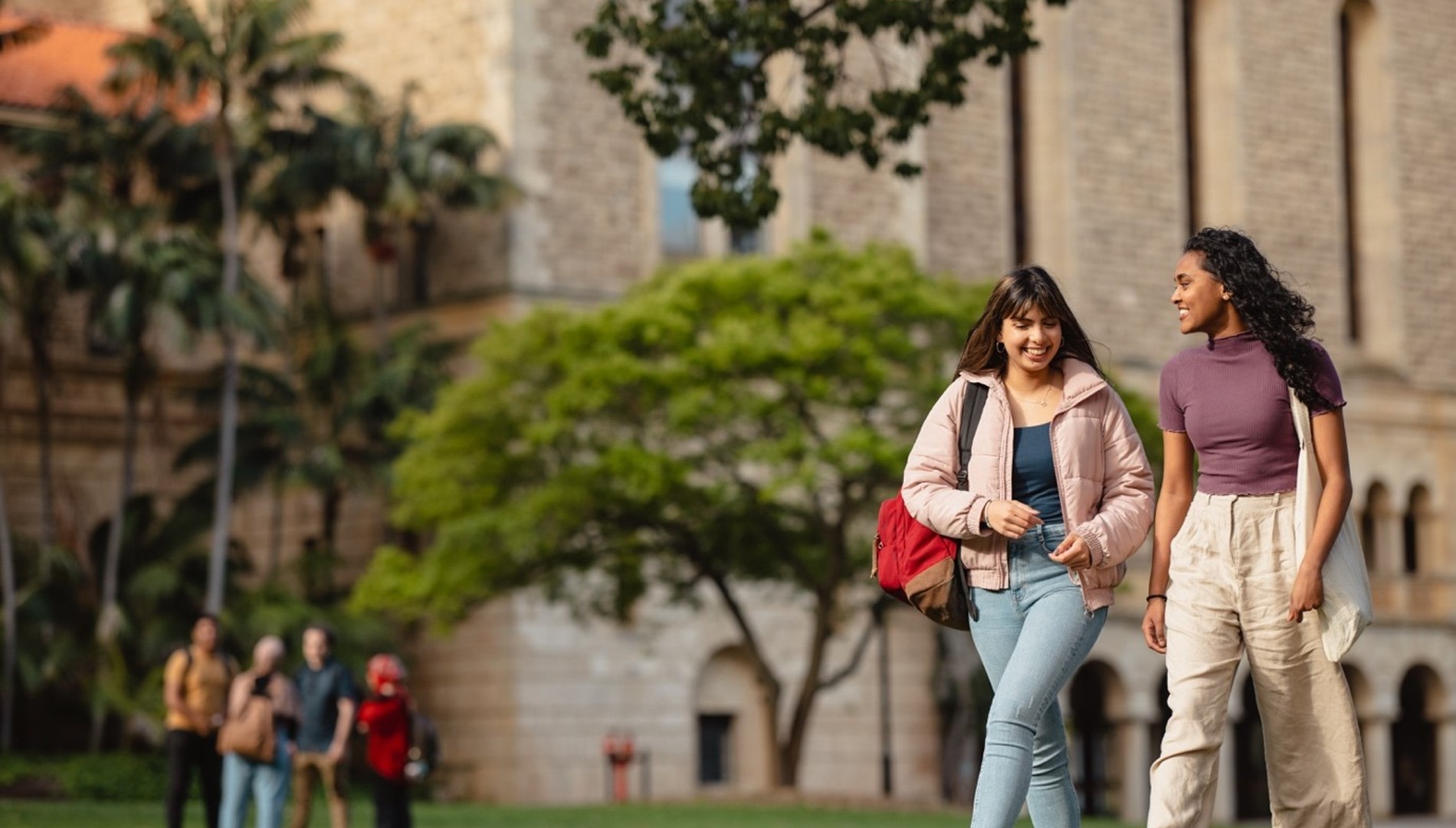 With an overall satisfaction score of 98%, international students praise the quality of academic programs and support services at The University of Western Australia's pathway center
(PERTH): INTO University Partnerships has achieved outstanding scores for student satisfaction for UWA College – the on-campus pathway center it operates for The University of Western Australia (UWA).
An overwhelming 98% of international students who participated in the annual survey conducted in May have said they are highly satisfied or satisfied with the overall experience of studying at UWA College. Similarly, 92% confirmed learning satisfaction and 98% highly rated the support they received during their programs.
UWA College, operated by INTO since June 2022, has been providing tailored pathway programs for a growing community of international students right in the heart of UWA's Perth campus. Students who meet applicable requirements are guaranteed a place at UWA ranked a world Top 100 university and a member of the prestigious Group of Eight.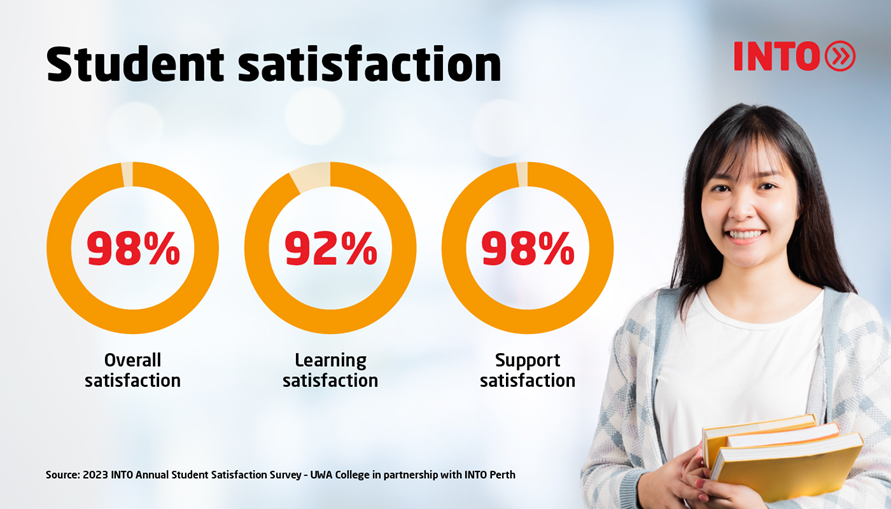 A total of 51 international students enrolled in pathway programs at UWA College participated in the survey. Nationalities represented in the survey included students from China, India, Malaysia, Vietnam, Bangladesh and Hong Kong among others.
Amanda Turner, Director, UWA College, said, "The student experience survey results demonstrate INTO's unwavering commitment to student success. At UWA College our academic and support services are designed to ensure that international students have the best possible start for their journey to The University of Western Australia."
"We are grateful for the trust placed in us by international students from across the world, and we remain dedicated to providing them with top-notch learning and support throughout their academic journey."
Professor Jennifer Howell, UWA Pro Vice-Chancellor (Global Engagement), said: "Having watched UWA College over the past year go from strength to strength, it's truly heartening to see the combined efforts of UWA College, UWA and INTO staff reflected in such exceptional results. UWA College has prioritized the delivery of what can only be described as a transformative international student experience. To hear from the students themselves that they're actively reaping the benefits of such a tailored experience, is fantastic news.
"From admission to orientation and throughout their academic studies, UWA College students are provided with such integral support at every stage of their pathway journey. What this means is that students not only thrive from a smooth and supported transition to both life in Perth and their future studies at UWA, but they're given every opportunity to succeed and excel as a member of UWA's global community."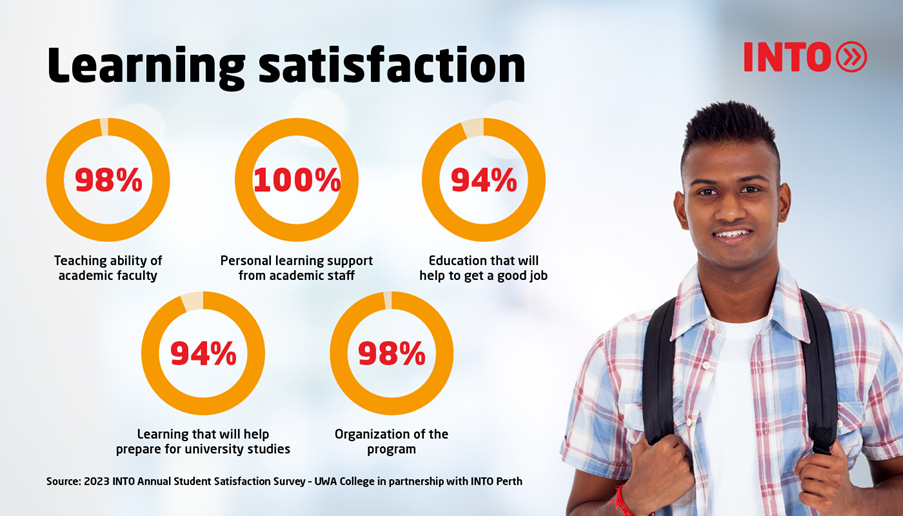 In the survey, international students highly rated their learning experience at UWA with a staggering 100% of the students polled expressing satisfaction with personal learning support provided by the academic staff followed by 98% approving of the teaching ability of academic faculty. The organization of the program received 98% positive votes, followed by career-focused education and learning that helps students prepare for university studies – both receiving an impressive approval of 94%.
"The UWA College provides one of the best learning experiences that I have experienced so far. The teachers are amazing. The support is amazing and encouraging. As well as the co-learning culture is like the cherry on top", said a student.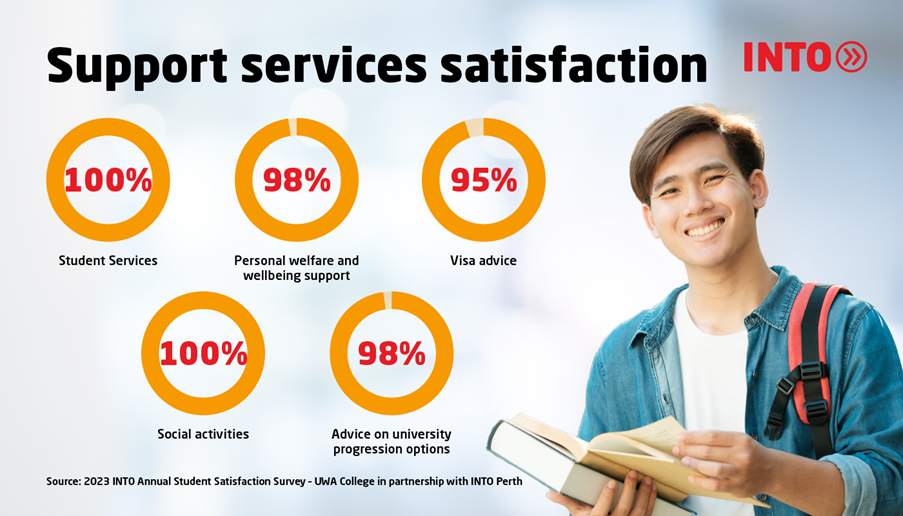 UWA College also won outstanding approval for student support services. 100% of students said they were very satisfied or satisfied with student services and social activities. 98% of students approved of personal well-being support offered and advice provided on university progression options. 95% of students were satisfied with the visa advice service.
"The staff in support services are friendly and supportive," said a student.
UWA College's programs have been developed in close partnership between INTO and The University of Western Australia. They offer a range of core and elective units designed to ensure breadth of study and to provide students with the opportunity to study a wide range of majors – providing streams into the Arts, Biomedical Science, Commerce, Engineering, Mathematics, Science and Computing. 
For media enquiries, please contact: 
Back to News and Press Releases