Following a successful pilot in London this summer, INTO and Queen's University Belfast partnered last week to put on the next iteration of Career Boost — a program that empowers international students to fast-track career success — in Northern Ireland's capital. For the four-day boot camp, 15 international students from Queen's built skills and gained experience they normally wouldn't get until their first years of work. That included participating in intensive workshops, touring top workplaces and completing a business challenge posed by a leading UK tech company, which helped students emerge more capable, connected and confident.
INTO's CareerFirst team cooperated with Queen's to design this special program, working alongside Queen's careers services. Their shared goal was not only to equip international students to compete for and excel in graduate roles, but to prepare them to take advantage of the surge in new career opportunities opened up by the Belfast Region City Deal. The Deal represents an investment of over £850 million to support inclusive economic growth that delivers local jobs in emerging industries.
Working together, Queen's and INTO aim for this program to be a starting point from which to continue combining outstanding degrees with employer connections and transformational employability support for international students whose dream is to work and live abroad. Simultaneously, their collaboration will ensure graduates lend their talent and expertise to the wider development of Belfast and Northern Ireland.
"International students contribute immensely to the economies of their study countries — especially in terms of the creativity, drive and new ideas they bring before and after graduation. There is also strong demand among those students for additional employability support during study. Our goal is to work alongside careers services at Queen's and great employers in Northern Ireland to give students that extra attention, so they can reach their career goals faster and strengthen the work force in Belfast and beyond," said Michael Lynas,Vice President, INTO CareerFirst.
International students are worth roughly £260 million to the Northern Ireland economy, according to a Higher Education Policy Institute and Universities UK International report covering the 2018-19 academic year. South Belfast is the biggest beneficiary of international students' presence, with a net benefit of over £44 million to the area's economy.
The Career Boost program at Queen's built on the success of INTO CareerFirst's Summer Employment Boost program, run in London this past June. Similarly focused on providing skills, experiences and connections, the Belfast bootcamp was divided into four days of activities that accelerated students' career progression.
Day one of the Boost saw students take part in team-building exercises before touring PwC's Merchant Square office — the firm's largest outside London — where they networked with employees and learned about careers in consulting.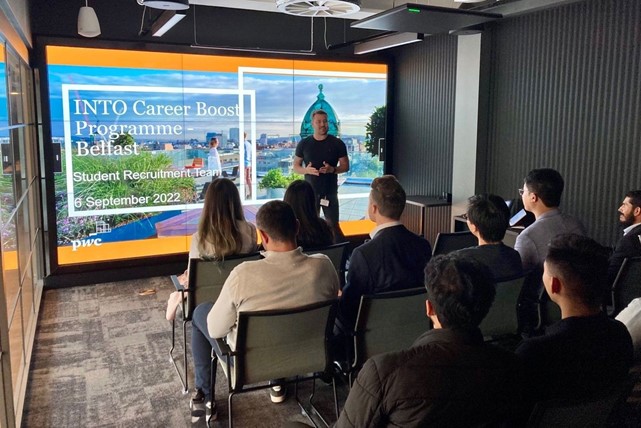 On the second day, students dug into impactful communication skills sought by major employers. They discovered the power of storytelling, developed interview techniques and learned to use body language to express themselves effectively across contexts, from job interviews to the boardroom.
The experience culminated in an employer challenge. Participants met with leadership from one of the fastest growing tech companies in Europe for a briefing on a real business problem they face, then spent 24 hours working in teams and drawing on their newly acquired project planning and storytelling skills to tackle the issue. They then pitched their solutions to a panel of company leaders, Queen's directors and former Boost students.
To conclude their experience, students received certificates for their accomplishments, heard remarks from Professor Margaret Topping, Pro-Vice Chancellor for Internationalization at Queen's, and attended a networking lunch.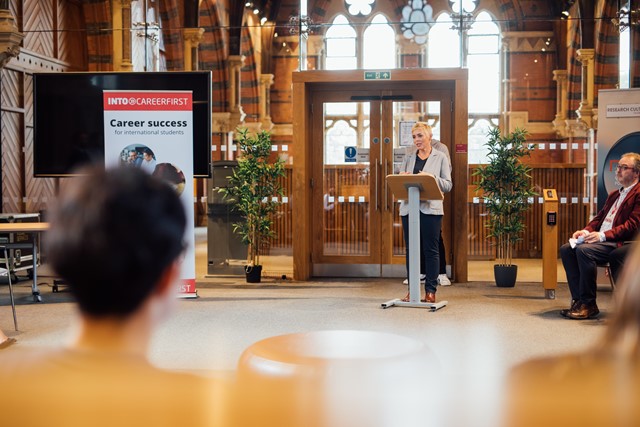 At the end of the program, participants reflected positively on their experience:
"I can't tell you how much I've learned from it. It really was amazing, and I can't wait to start using everything," one student shared.
Thinking back to the employer challenge, another student said, "It was the most formal and exciting presentation that I've ever made...This project supports and brings out the inner strengths that we don't even know we have."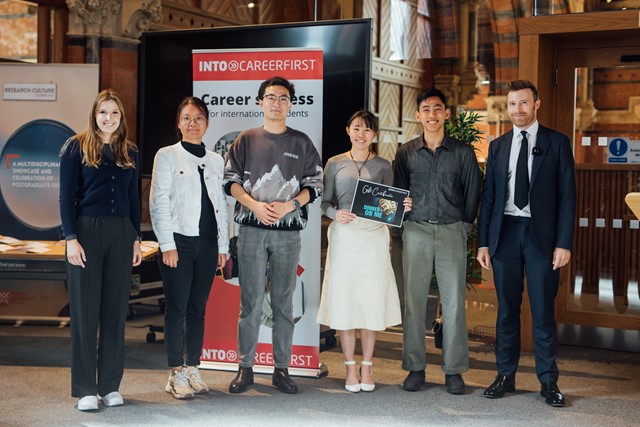 Queen's and the CareerFirst team will provide Boost students with ongoing support to help them go further in their careers, faster. This is the latest in a series of Boost programs occurring this autumn, with another instance set to take place in Manchester in October.