Is in-person learning irreplaceable? Agent perspectives on emerging and enduring international education trends in the context of COVID-19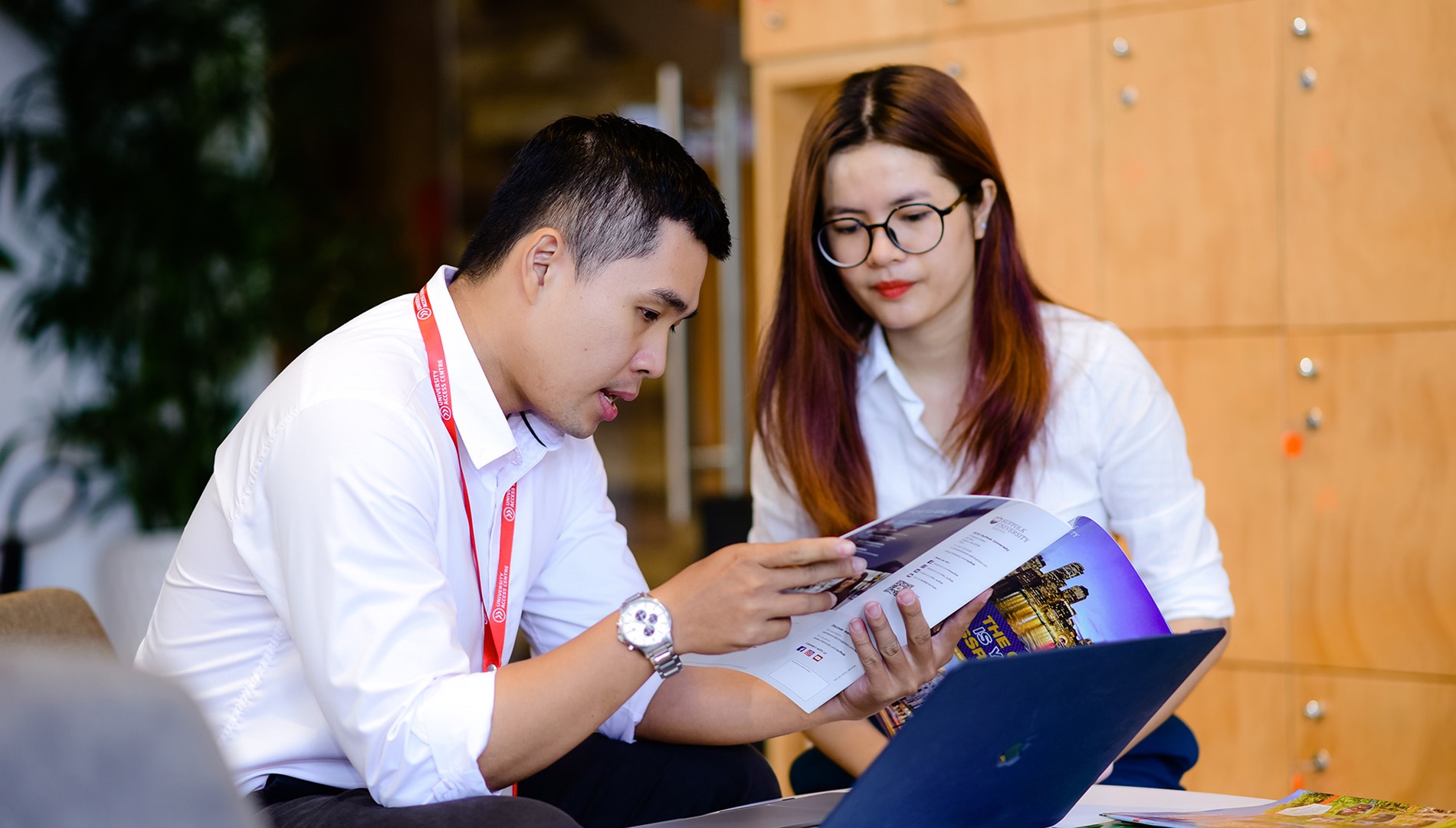 Over the last 22 months, education agents have offered higher education institutions a lifeline to prospective international students around the world. Continuing to support students in finding their best-fit universities through initial lockdowns and subsequent case surges, agents have also been the first to register the inevitable changes in study abroad decision-making brought on by the COVID-19 pandemic.
INTO's recent, global agent survey shows that, across the board, agents feel study abroad aspirants are increasingly price-sensitive and focused on securing a stronger return on their investment from their international degree, especially in terms of career outcomes. At the same time, though agents anticipate student demand will return to face-to-face learning, they have registered increased interest in blended delivery among rising international students — a definite departure from pre-pandemic preferences. Amid these emerging and enduring trends, one thing is clear: flexibility must feature in the international education sector's strategies to engage and support students as they navigate the new terrain before them.
Emerging trends: shifts in the factors influencing study abroad decisions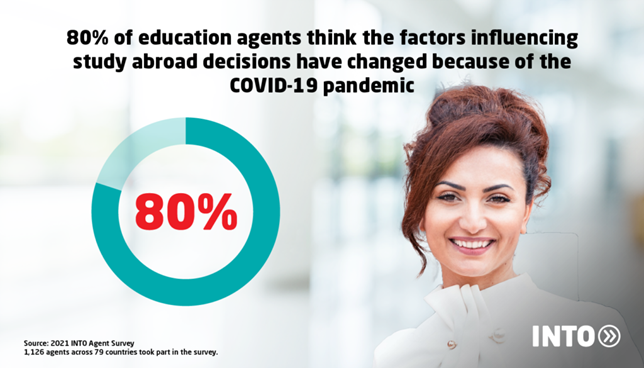 Globally, 80% of agents think the factors influencing study abroad decisions have shifted because of the pandemic. The greatest share — 65% — think international students and their parents increasingly seek scholarships and other forms of financial aid as they weigh their university options, no doubt a ripple effect of COVID's all-encompassing impact on the global economy. Moreover, 61% think international students are now far more focused on career outcomes than they were prior to the pandemic, while 49% think students and parents demand a stronger return on investment.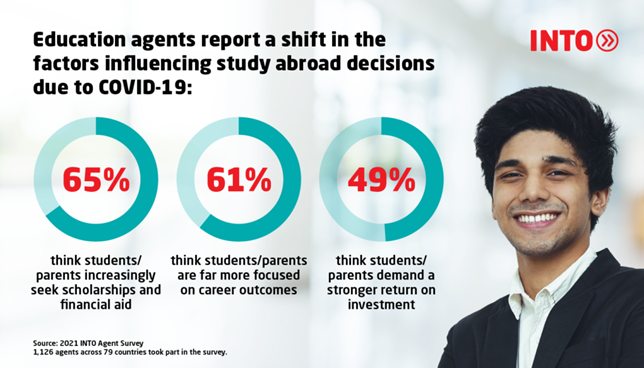 Concentration on careers and clear-cut objectives among young people is well-documented in our previous Gen Z research — and agents say it will continue to define international education. More than one quarter of them — 27% — identify job opportunities in destination countries as the factor that will have the greatest impact on study abroad decisions in the next five years, suggesting more of their clientele want to work abroad after university. An additional 21% identify the immigration policies of destination countries as the greatest influencing factor.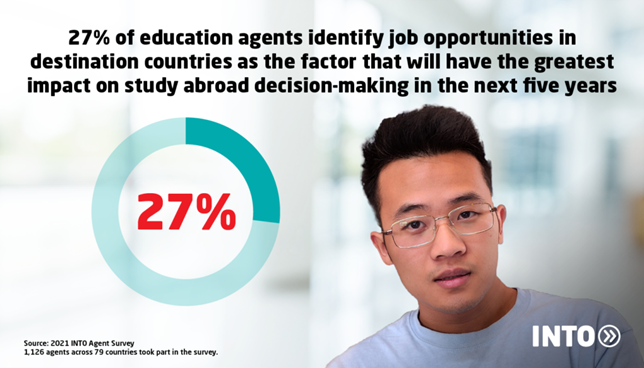 It's worth noting that agents based in China, Hong Kong and Macau diverge from their counterparts around the world, with 31% citing future pandemics and 25% citing future geo-political impacts as the greatest influencing factors over the next five years.
Related to a growing focus on employability, 45% of agents report international students are gravitating toward subjects that offer launch pads into burgeoning sectors. Specifically, 24% see increased interest in computer science, and 14% see increased interest in data science and analytics. As signalling job readiness to future employers becomes more important to prospective students, 66% of agents believe international students will be interested in travelling abroad to complete non-degree credentials, such as micro-credentials and certificate programmes.
Enduring trends: an unshakable interest in-person study abroad experiences
Despite the ongoing impacts of the COVID-19 pandemic, 95% of agents anticipate student demand will return primarily to face-to-face delivery in the future. International students' lasting preference for in-person study abroad experiences is, perhaps, unsurprising, and it certainly comes as welcome news for a sector that seeks continued recovery in 2022.
That said, the new reality of travel restrictions and social distancing measures at the height of the pandemic necessitated virtual solutions that enabled students to continue their studies from a distance. As the opportunity to blend online learning with in-person instruction has arisen, students are more comfortable with this hybrid mode of learning. Nearly three quarters of agents — 72% — report increased interest in blended delivery programmes since the start of the pandemic, a sea change from student behaviour just two years ago. Meanwhile, 8% of agents find students are very interested in entirely online degree programmes, and a further third — 33% — find students are somewhat interested.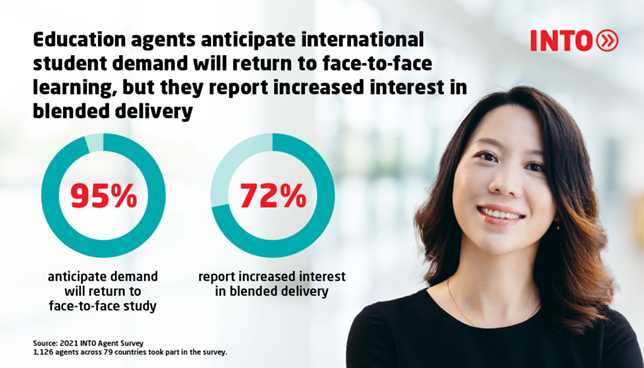 A new playbook for international education?
There are no two ways about it: COVID-19 has ushered in substantial changes for international education. But will they last?
Even as agents assert that in-person learning will continue to be the dominant form of international study in the future, they mark the clear signs of transformation among the international students globally — not least of all when it comes to their openness to blended delivery and their demand for career outcomes and strong returns on their study abroad investment.
One of the many lessons COVID-19 has taught international educators is the need to embed flexibility into delivery. Those of us in the sector must continue to adapt to meet students' evolving needs and ambitions — wherever they are, no matter what lies ahead.
---
Survey details
A total of 1,126 agents from 79 countries participated in the survey, which was carried out over the first two weeks of November 2021. Represented countries include China, India, Indonesia, Vietnam, Nigeria and Brazil.
Back to Corporate Blog