All hands on deck: Helping international students navigate the COVID-19 crisis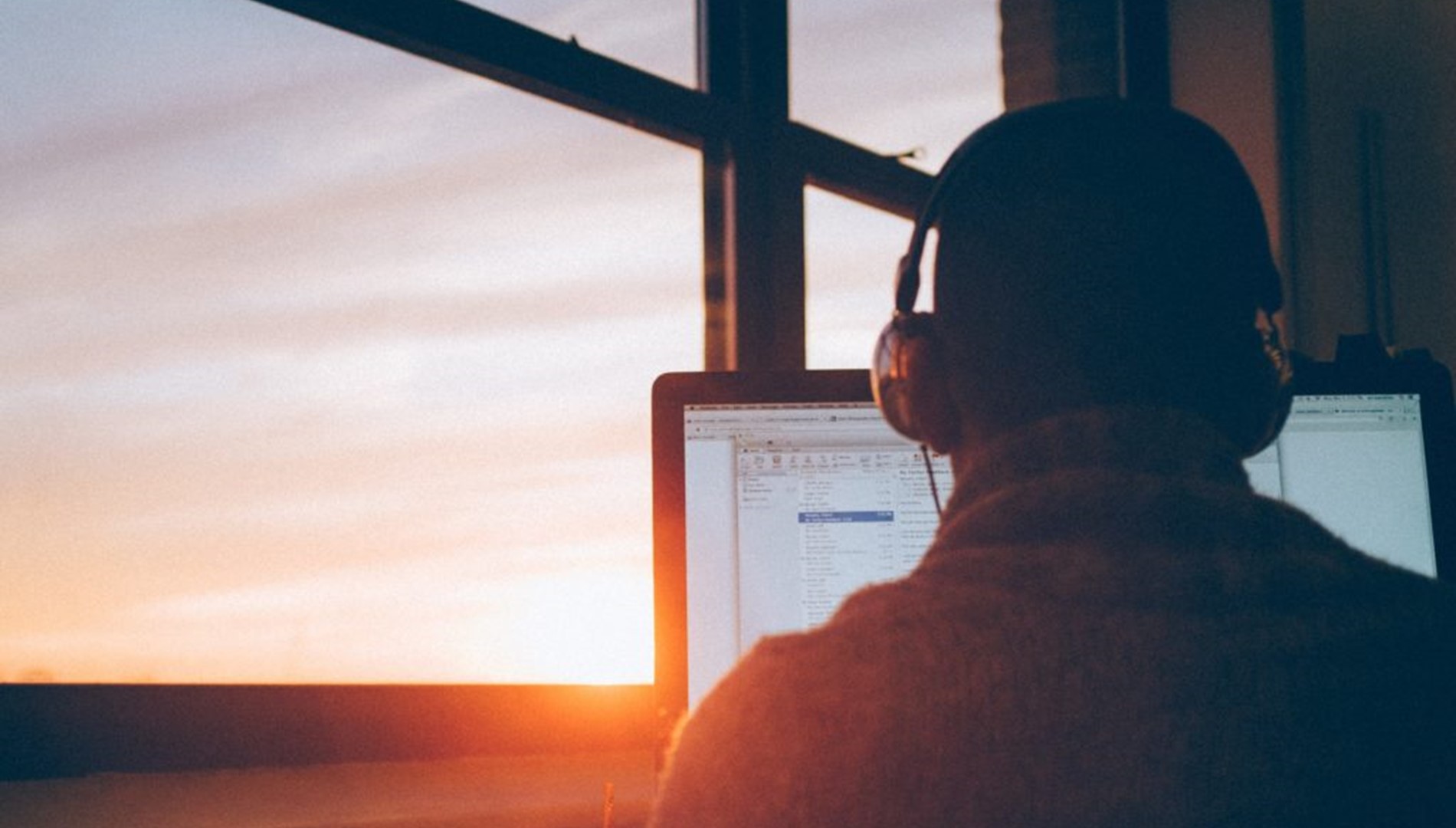 Even in the best of times, international students' decision to travel across the globe in search of education opportunities is courageous.  Their journey is one of hope, aspiration, and, of course, some trepidation as they step into the unknown.  When these students embarked on their studies abroad this year, however, a global pandemic added new layers of concern and uncertainty to their experience, sending them into uncharted waters.
The jobs of student experience specialists on whom these students rely to help them navigate uncertainty in their studies has never been so critical or challenging as they are during the COVID-19 crisis.  We reached out to colleagues on the front lines across INTO's university partnerships in the United States to learn more about their all-hands-on-deck approach to supporting international students in these uncertain times.
How are INTO centers supporting students virtually?
As universities have rapidly transitioned to distance learning due to the coronavirus spread, international student services offices across the U.S. have faced the challenge of cascading information and providing support to international student populations without disruption.
INTO center staff in the U.S. first responded to this challenge by establishing virtual welcome desks for international students.  Julianna Betjemann, director of student experience at INTO Oregon State University, explains, "The INTO OSU Virtual Welcome Desk is available via Zoom, Line, WhatsApp, WeChat, Skype, phone, and e-mail."  Students access the virtual welcome desk via a website with links to initiate drop-in advising sessions and live chats about concerns like academics, housing, and health services, as well as guidance to set up Zoom for virtual classes and complete coursework via Canvas.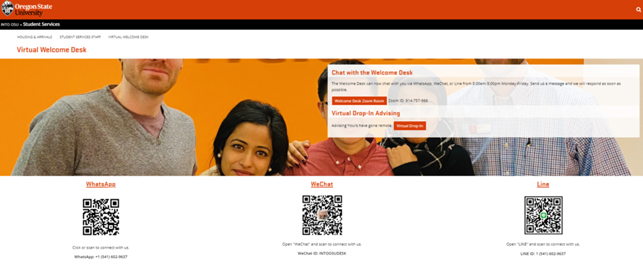 Because OSU operates on a quarter system, Betjemann and her team also facilitated a virtual spring orientation for nearly 35 international students who arrived in Corvallis as the University began implementing social distancing policies.  In addition to virtual information and social events, INTO OSU Executive Director Bob Gilmour welcomed students to campus over Zoom, and the center's student employees reached out to the cohort virtually "to provide a student-to-student contact point for every new student," says Betjemann.
In addition to the virtual welcome desk, centers like INTO George Mason University and INTO University of South Florida are hosting weekly briefings for international students to update them on university responses to COVID-19 and help them connect with other members of their cohort.  At INTO Suffolk University, Director of Student Experience Sophie Wilson facilitates one to three Zoom events weekly, which "include themes like academics, using online technology, wellbeing, and social connections."
How are INTO centers providing in-person support to students?
Per university and state government policies, international students may only access essential services in person.  Still, INTO centers are prepared to maintain social distancing while helping students access essential services.  Wouter Van Alebeek, assistant director of student experience at INTO Illinois State University (ISU), shares that his team has even been "delivering groceries to students who feel uncomfortable going to the local store," maintaining social distancing with no-contact deliveries.
How are INTO centers managing students' returns to their home countries?
Student experience staff in INTO centers understand students' desire to return to their homes during the COVID-19 outbreak.  However, it is imperative that students understand the risks of nonessential travel at this time and resume their coursework once they have returned safely.
Once students decide to leave, they receive signed I-20s and other travel documents by mail as well as regular contact to ensure they stay on track academically.  Andrea Zhou, student services specialist at INTO Saint Louis University (SLU), emphasizes that she and the INTO SLU team "commit to supporting students' success no matter where they are."  According to Zhou, "all courses will be recorded so students can access and attend class at the desired time in order to resolve the time zone issue."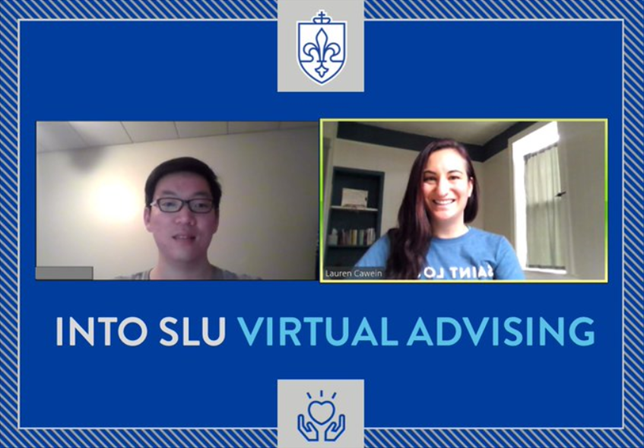 What are students' biggest concerns, and how are INTO centers addressing them?
Across INTO's U.S. centers, student services staff have deployed surveys to capture students' biggest concerns related to COVID-19.
Michelle Coles, student services specialist at INTO Drew University, explains that her students' two greatest concerns are "uncertainty and travel safety: students are concerned about summer and fall classes, if they will be able to get home, and, if they get home, whether they will be able to return for the next semester."  Similarly, students' most common questions for Kyle Bailey, director of student experience at INTO University of Alabama at Birmingham (UAB) regard the provision of summer classes and housing.
Hand in hand with students' logistical concerns are more existential worries.  According to Wilson of INTO Suffolk, "students are worried about their health and the U.S. health care system, and they have shared feelings of loneliness and isolation."  She adds that INTO Suffolk's "Chinese students are worried about wearing masks outdoors due to acts of bias they may face… [and] about President Trump's use of the phrase 'Chinese virus.'
To address these concerns, Wilson and her team are referring students to the University's health care office, which offers Zoom appointments, and engaging students with help from the "INTO Suffolk Leadership Council (volunteer student leaders), who are also reaching out to students for peer check-ins."  Additionally, Chinese students who are concerned about bias may report incidents through University, and they have regular check-ins with the center's Mandarin-speaking team member.
As the COVID-19 situation changes rapidly from day to day, centers are working around the clock to ensure students are not wrestling with their uncertainty in a vacuum.  When answers are not immediately available, INTO student experience teams are addressing concerns with frank and frequent communication. 
"We provide as much information as we can, reaching out to students and ensuring them we are here for them and will provide answers as soon as we have them," explains Zainab "Xia" Ahmed, assistant director of student experience at INTO Hofstra University. 
Coming through the COVID-19 crisis together
As international education professionals, student experience staff at INTO's U.S. centers understand that there is one way to support international students in such uncertain times—by drawing on each other's strengths and working together.  According to Betjemann, her team's ability to work together and act quickly despite physical distance has allowed INTO OSU to support their students effectively amid the outbreak.  "It has been nice to see how we can come together to look after students and do what needs to be done in these challenging circumstances," she says.
It's the all-hands-on-deck approach for which the moment calls, and it's how INTO centers and university partners will continue to support students once we have come through the COVID-19 crisis.
Back to Corporate Blog