The road home: Orientation 2019 at INTO's American partner universities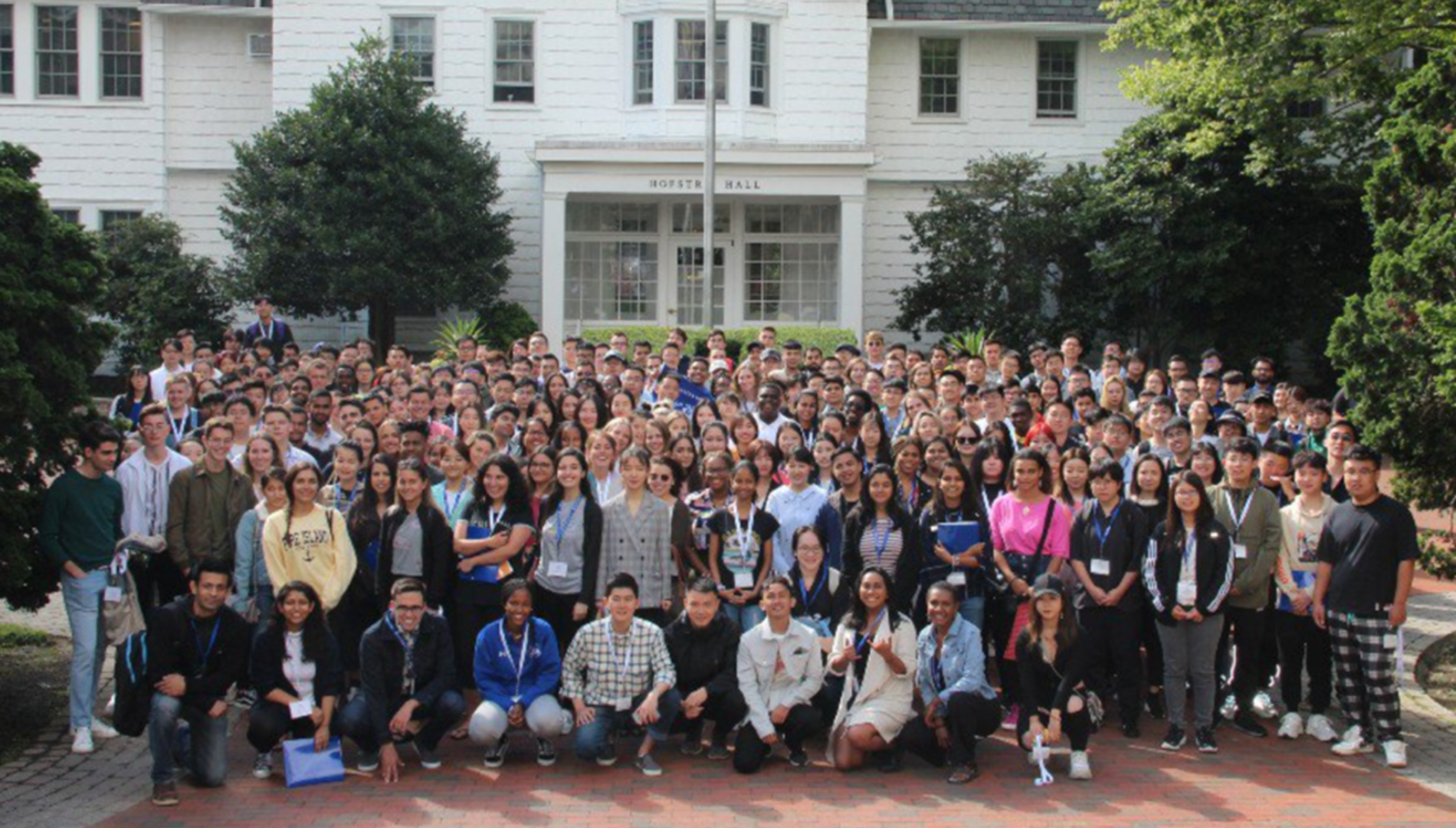 INTO Hofstra University's inaugural class of more than 120 students from 13 countries
Over the past month, some 2,500 students from around the world commenced their studies at INTO's 12 university partners in the United States.  Understanding the anxieties that accompany this journey, faculty and staff across INTO's U.S. university partners and their respective INTO centers deploy a combination of pre-arrival communications, carefully curated orientation sessions, and online applications to familiarize students with their new university communities.  The result: a high-touch orientation experience that provides students a launchpad for a successful academic career.
First contact: Pre-arrival communications and services
For every student in an INTO university partnership program, orientation is preceded by several waves of pre-arrival communication.  Wouter Van Alebeek, Assistant Director of Student Experience at INTO Illinois State University (ISU), and his colleagues "send out regular reminder e-mails about next steps, like submitting arrival details, making housing reservations, and preparing for placement testing." 
Often, INTO center staff include education counselors in pre-arrival correspondence to ensure that no critical information is lost in translation, giving students a sense of security as they prepare to leave their homes behind. This correspondence is typically supported by a series of webinars and in-person pre-departure sessions held in students' home countries.
"I communicated a great deal with students and counselors to ensure they felt confident before and during their travels," Zainab "Xia" Ahmed, Assistant Director of Student Experience at INTO Hofstra University, comments.
On top of giving students peace of mind, INTO staff's pre-arrival support checks as many administrative boxes as possible before orientation begins.  At INTO ISU, students can even request that center staff "arrange on- and off-campus housing on their behalf, which allows us to provide keys upon arrival and make incoming students' apartments or residence hall rooms move-in ready," Wouter says. 
The focus on an efficient pre-arrival process leaves more space for dynamic, immersive orientation programming.
Welcoming party: Orientation as familiarization
Orientation proper begins as soon as each student steps off the airplane in the U.S., with welcome assistance provided by all 12 U.S. centers.  For Julianna Betjemann, Director of Student Experience at INTO Oregon State University (OSU), this first step is critical to the orientation process:
"The airport is two hours from campus, so we have staff waiting at the airport with snacks to accompany students to campus for room check-in.  We are very hands on through the whole move-in process."
Move-in is followed by a week of orientation programming, which covers a range of topics from basic university academic and immigration regulations to resources available on and beyond campus.  INTO University of South Florida (USF) students' orientation began with University business, like meetings with the finance and immigration teams, before a resource fair takes place. INTO USF Student Services Coordinator Nousheen Rahman describes the fair as an event "in which on-campus departments and off-campus businesses have tables and help students learn about resources and activities available to them on campus and also set up the phone and bank accounts they need."  Nousheen adds, "There was also a welcome party with a DJ and USF cheerleaders, and games and activities that encouraged students to socialize."
Across all INTO university partnerships, staff give careful attention to how critical messages are broadcast so that no information is lost in translation or diluted by an overwhelming orientation agenda.  At INTO ISU, staff "cater to sessions they believe are essential for Academic English and pathway students, with spoken language more catered to students who are still becoming familiar with English," notes Wouter.
Diving in: Orientation as immersion
While INTO students participate in orientation together, the week also provides them with several opportunities to connect with other, directly admitted international students and domestic students.
Incoming INTO Hofstra students go through orientation side by side with other newly enrolled international students.  Xia remarks, "We want INTO Hofstra students to feel as much a part of the University as any directly admitted student, so we work closely with the International Student affairs Office to overlap as much as possible."
Additionally, INTO Hofstra students interact with domestic students during orientation thanks to the University's Global Mentors program, in which domestic students volunteer to mentor a group of international students.  Combined with volunteers from the Chinese Student and Scholar Association, these individuals assist with airport pick-up, housing check-in, and orientation programming.  "Many of the volunteers are bilingual and were thus a great asset to our Academic English students," notes Xia.
Digital guideposts: The rise of the orientation app
Virtually all rising university students rely on their smartphones for the information they need to adapt to their new study destinations.  This fall, for the first time, five INTO centers in the U.S.—those at Marshall University, Hofstra, ISU, and OSU—used a new app platform called "Yapp" to share orientation schedules and valuable campus information with new students upon arrival.  Each partnership has their own customized version of the app, through which students can access resources like staff directories and even download health insurance cards. 
Collaborating with partners at Hofstra, Xia populated INTO Hofstra's version of the app with the orientation schedule, staff photos and profiles, important documents, and information about grocery stores, banks, and things to do around town.  Now that orientation has concluded, the app has been updated to feature fall 2019 academic and social calendar programming.
In addition to an orientation app, INTO OSU staff piloted a new video module to convey important Title IX information.  According to Julianna, the video is" by international students, for international students, and features exclusively international students speaking."  Students were asked to view the module, which was available with captions in more than 10 languages, in their personal time before attending a workshop session to learn about related campus resources in person.  The video was different from Title IX materials designed for students who grew up speaking English within the cultural context of the U.S. their whole lives, and thus ensured that none of the critical content on interpersonal violence prevention was lost on students as a result of varying language-proficiency levels and differing cultures.
The virtuous circle: Driving constant improvement
As student expectations change, orientation programs at INTO's university partnerships change, too.   From the first orientation at INTO OSU ten years ago, feedback from more than 25,000 students has ensured that orientation remains focused on what students need to thrive in their new environment.  INTO's most recent student experience survey results from April 2019 indicated 95% satisfaction with the support students receive, with a major component of that support constituted in the orientation experience.
It is part of our promise—helping to provide international students with the introduction to their new university communities they need to utilize the resources around them, become successful students, and contribute to their homes away from home.  With orientation behind them, several INTO staff members confirm the benefits of the orientation process benefits.  Summed up perfectly by Xia, "I knew we had an incredible group joining us.  From walking off red-eye flights so cheerfully to going through orientation, the week was so enjoyable for myself and all INTO Hofstra staff.  Knowing that our students were happy and felt confident in their future success was all I could really ask for."
Back to Corporate Blog