Partnering for student success: Teaching and learning innovations at the INTO academic directors' conference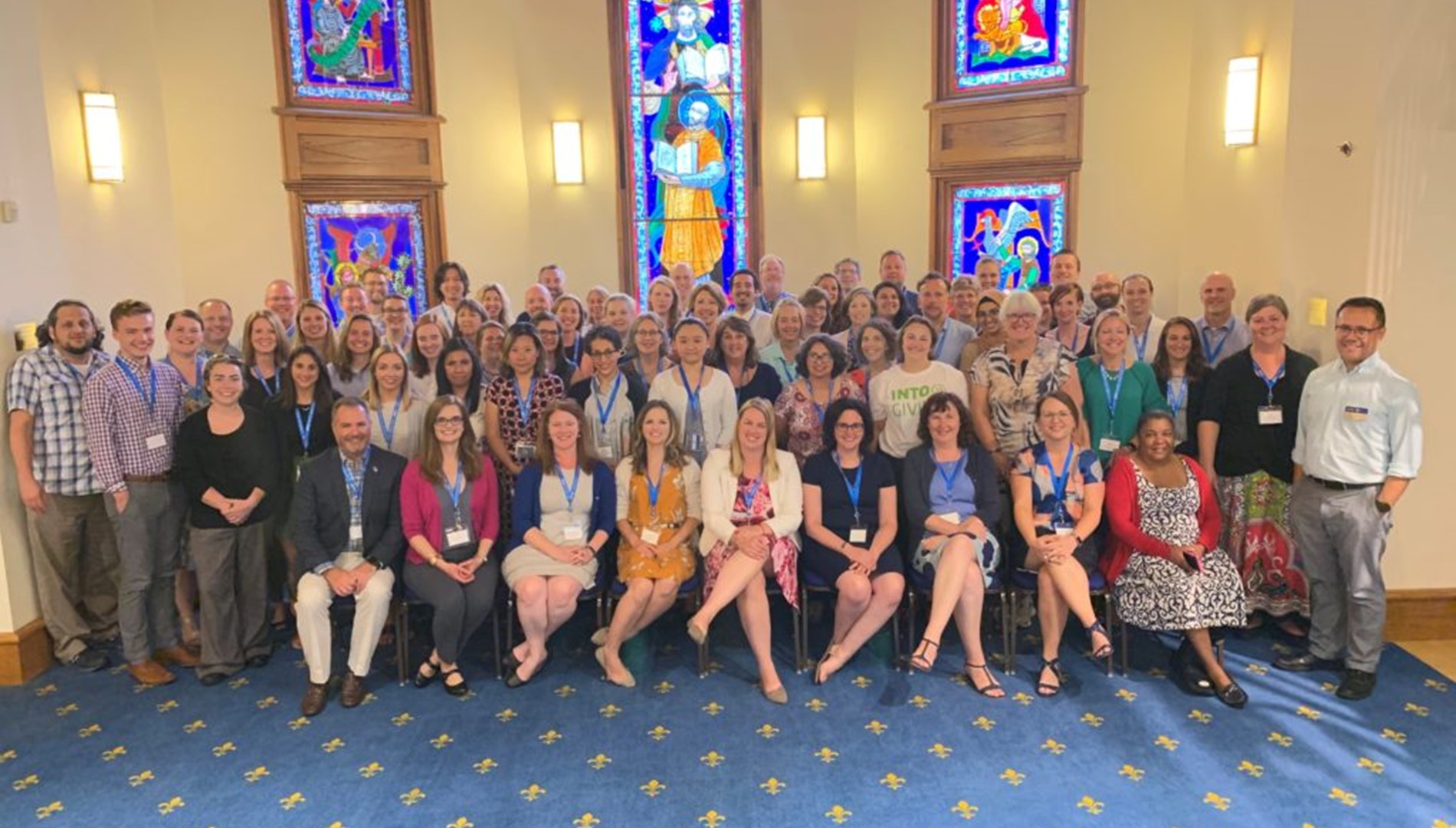 While it is critical to grow international student enrollments in INTO's university partnerships, it is equally important to retain those international students in degree programs, support their academic success, and ensure their timely graduation.  This is the complex task that academic faculty across INTO's 12 university partnerships in the United States addressed over three days at the annual INTO academic directors' conference at Saint Louis University (SLU).
This year, the conference theme was "Partnering for Student Success," and it focused on ways in which academic faculty could work in tandem with student services faculty and other campus stakeholders to support the partnership and improve each international student's educational experience.  In her opening remarks, Dr. Lisa Fischer, Academic Director at INTO SLU, noted that the conference was a "time to dwell on the student-teacher relationship as well as partnerships forged outside of the classroom to support student success, and how to push these elements into more intentional practices."
A conference at the cutting edge of international education
Unlike major conferences in the international education space, INTO's annual academic directors' conference centers exclusively on pedagogical research and strategies to create effective teaching and learning environments for culturally and linguistically diverse students undertaking pathway programs.  It is a relatively new development in international education, and many ESL professionals are still unfamiliar with the details of such programs. 
These "pathway" programs offer international students an opportunity to benefit from supportive English language instruction while taking introductory university courses for credit as non-degree-seeking students.  The success of INTO's pathway student performance is well-documented, and INTO's university partners are at the forefront of innovative new strategies to better support pathway students as they begin their academic degree programs.
Best practices: The faculty development steering committee and digital resources initiative
In addition to providing a platform for research presentations, the academic directors' conference affords university colleagues the opportunity to share best practices for fostering international students' success in the classroom.  Leading the charge to disseminate these practices across INTO's North American partner network is the Faculty Development Steering Committee, a group of eight academic faculty members across INTO's network assembled in fall 2018 by Dr. Sharon Sundue, Executive Director at INTO Drew University and Vice President of Academic Affairs for INTO North America, Dr. JoAnn McCarthy, Senior Academic Advisor for INTO, and Dr. Suzanne Austin, Senior Vice Provost and Senior International Officer at the University of Alabama – Birmingham (UAB).
The three established the Committee following conversations at INTO's second US partners' conference in October 2017, where several provosts from partner universities indicated their eagerness for professional development opportunities for subject-area faculty on how to integrate international students on campus more effectively and promote their success.  In doing so, they suggested pooling pedagogical research and firsthand experience with teaching international students to develop resources to be shared by all partner universities. 
"The goal of this project is to develop an online platform full of resources that will help faculty navigate key points of pedagogical friction when it comes to teaching international students," said Dr. Sundue.  "We surveyed the resources available and the needs of faculty across INTO's US network and determined that short videos would be the ideal mechanism to help colleagues more successfully internationalize their classrooms."
With the hope of launching an online platform over the next year, pilot video content was produced by the INTO centers at Drew University and the University of Alabama-Birmingham in association with their respective campus centers for teaching and learning (CTLs).  The videos were premiered at the academic directors' conference and were enthusiastically received.  The short videos, each about five minutes long, demonstrate effective techniques to engage students in group work in multicultural classrooms and to constructively assess English language learners' writing assignments and promote better writing. 
The project depends upon "reaching out to those faculty at every partner university who have demonstrated a real talent for creating an international classroom," says Dr. McCarthy.  "Their work should be showcased to other faculty members who may not be sure how to approach some of the challenges and opportunities presented by an international classroom."
For INTO UAB's part, producing a video on team work meant collaboration across several campus units to align content with university-wide learning objectives.  It was an endeavor that will benefit not only international students but domestic students as well. 
"UAB decided to create a video on team learning because this is part of our university-wide Quality Enhancement Plan (QEP) required by our national accreditor, SACSCOC," said Dr. Austin.  "The video was the result of a collaboration between UAB's Center for Teaching and Learning, the INTO UAB Center, the Division of eLearning and Professional Development, and the Office of the Senior Vice Provost and Senior International Officer."
The work of the Faculty Development Steering Committee and the conversations that emerged from the academic directors' conference will not only support international students' experiences.  Rather, it exemplifies INTO's ongoing commitment to academic innovations that work for all students and faculty.  As faculty are empowered to activate multicultural learning spaces, they enrich the educational experiences of domestic and international students alike.  Dr. McCarthy perhaps summed it up best: "It is not a matter of alerting faculty to the unique needs of growing numbers of international students, but of providing them with strategies to reach them and draw them into the learning process for the benefit of all students in the class.  Faculty ask, 'How can I create a classroom that unleashes creativity, enhances learning, and makes it a positive experience for both international and domestic students?'  It's a tall order, but certainly not impossible, and INTO Centers across the US are leading the way."
Back to Corporate Blog